We just finished up a very hectic, fun long weekend full of family, friends, photos, and freedom from "city things." It was great as well as exhausting to do so many things, but we're really glad to get back to work that we've been only barely able to mess with while entertaining and photographing people.
Our weekend was spent mostly on a lake in Michigan with 30 family members. The big "warm" holidays for Jenny's family are Memorial Day and 4th of July, so this was just a warm-up for the huge 4th of July festivities when we'll have 6 more family members (including Jason's) fly in from out of town. Every day for 3 days Jenny, Jason, and her cousin's kids (at least the 4 old enough to be in elementary school) made trips around the neighborhood on the road and then eventually to a Marina to get candy. Kids really, really know more than you think they do and are way more fun than adults sometimes. It's fun teaching kids about plants and life while learning through their bluntness what they think about the world. We also spent some time with the kids setting off the obligatory fireworks and sparklers when the sun finally went down after around 9:30 pm as well as making s'mores with them.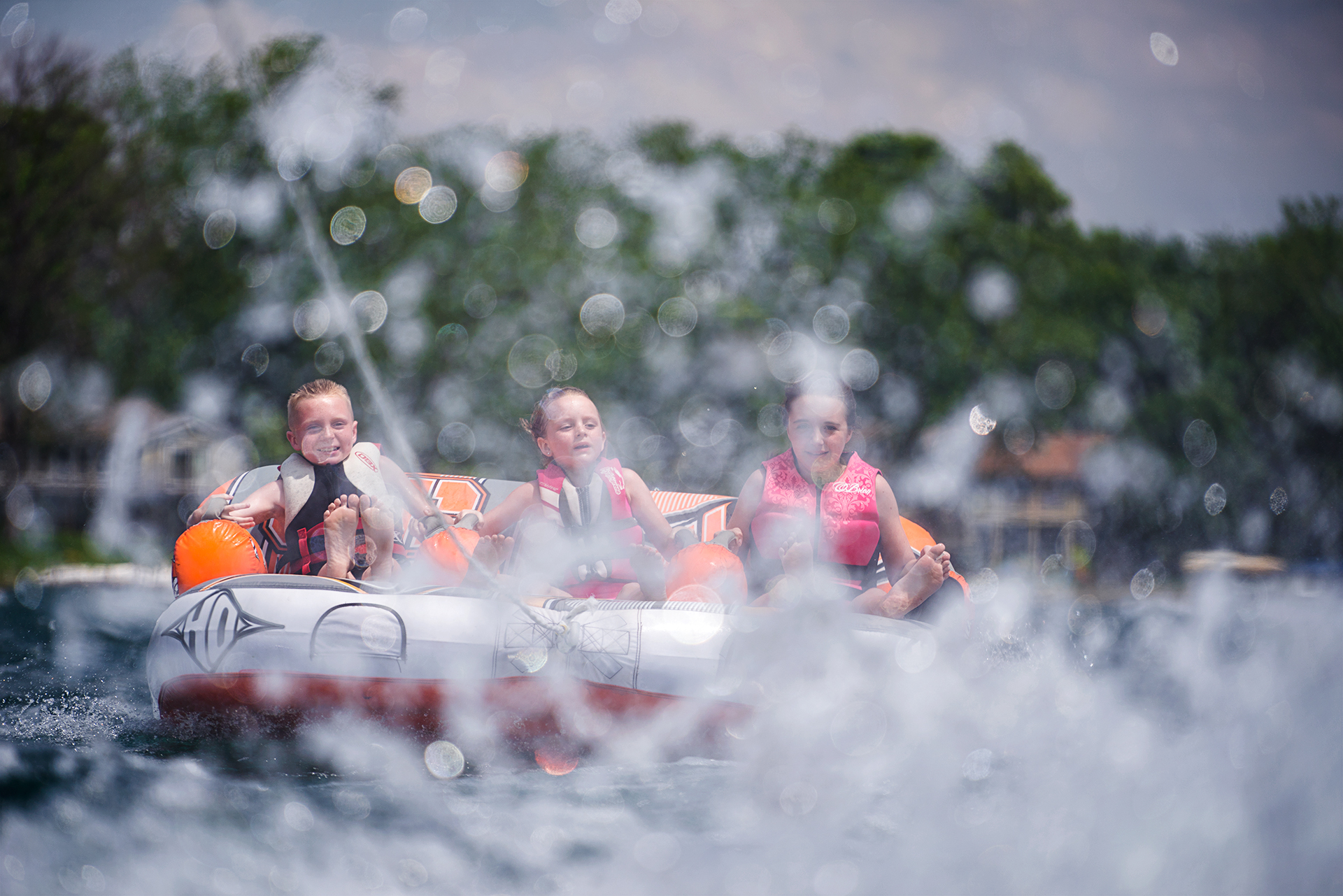 When we weren't off playing, we hopped on Jenny's cousin's boat and helped people go tubing. Jason got absolutely soaked at the back of the boat trying to capture photos of the kids tubing, but it was well worth it. We also finally got to use all of our cheap floaties while swimming again! We just realized that we're up to: a pretzel, 2 sharks, a sea turtle, a stingray, and 2 other floaties. Between all of the playing and eating, we barely got much time to socialize with all of the 20 adults (but we appreciated what time we did have)!
In the middle of all of this (literally) we hopped in the car and headed up an hour to one of our new favorite wedding venues in Michigan. This was Jenny's first time EVER doing a "styled" (i.e. fake) wedding shoot and Jason's 4th time (none of which are on our website). Since we and another photographer had met the venue coordinator and she had seemed very eager to have more photos and promotion for the venue, we suggested she have us back to photograph. Models and photographers were brought in to take beautiful photos on the property. We were one of two sets of (real) couples who modeled as bride & groom and there were 4 other single young women being photographed as well. First we modeled in wedding clothes, then we photographed the other models. It was a nice time and we're hoping to get to photograph a REAL wedding there this year!
After the styled shoot, we made it back to all of the family. A couple friend of ours made it out to visit and hang out by the water the next day and we all sang Beyonce's Lemonade while watching their small pup enjoy some swimming. All-in-all the weekend was nice.
We'd totally forgotten, but we had booked a $35 cabin for a night down 2.5 hours south of us in Indiana for one night this week. We really needed the quiet and solo time together, so it was nice getting to stay in a nice-sized 4-bed cabin alone while relaxing away from the computers and cameras. It was also Jenny's first cabin & only our second time camping within the past year, so we loved it and wished we could have stayed more than 24 hours. We spent the next morning at the amusement park there ($25 for an all-day waterpark + amusement park/ rollercoaster pass) and went on every single ride despite half of the time being mildly rainy.
We are back to work now and so happy to be doing it. We are finishing up orders for a few clients and ordering Print Packages for the others! We have a new logo in the works and are pretty excited about some current client projects we have going. (Yes, we rebranded ourselves 6 months ago, but that logo heart had been made YEARS prior and we want something more "intimate" feeling in terms of branding. We're really just having the entire logo professionally made finally.) At the end of all of the editing and orders in the next day & a half, we head up to St. Joe, Michigan in less than 2 days to photograph a couple's Engagement Session! And then on Saturday... we sleep.