We couldn't come up with a title to pull all 3 of our photo series together since none are related at all, so we thought we'd hop on the bandwagon and just call it Pokemon Brexit for no reason. Please excuse our weird title. WIthin the past full week there've been a lot of things happening. After we bid adieu to our family and friends from out of state last Tuesday night & returned home from Chicago Wednesday morning, we immediately got back to work on our business endeavors. All of the client product orders that we designed last week were received already this week and we're so excited that the hundreds of products look great for everyone! We're so excited about our photo products that we offer and are planning on rolling out even more product options as we move forward. In a world full of transitory digital imagery & convenience store prints, it's nice to be part of the movement back toward physical professional quality photography prints and albums, post cards, other fun products, and well-framed wall art. There's something (everything) to be said for physical hand-held photos.
Anywho, aside from print orders & client/ bridal consultations, we also finally filmed videos that've been in the works since March. We met a wonderful harpist at a Wedding Event 4 months ago and she asked us if we did video work. We chatted for a good while afterward, went to her home to discuss a rough timeline for the videos, and then finally set a date (which changed a couple times). The filming was limited to the 5 hours that Anna rented the space out for, so there wasn't time for any additional things and we were on a tight timeline which included the loading in and out. The space was gorgeous, though, as was the music obviously. (We were serenaded by 4 of the 5 harps she brought!) We won't be focusing our career on videography anytime soon, but we're excited to finish the videos and showcase them. You'll have to wait for the video since it's editing time now which is an extensive process, but for now we'll leave you with some screen grabs from both of our cameras as we filmed.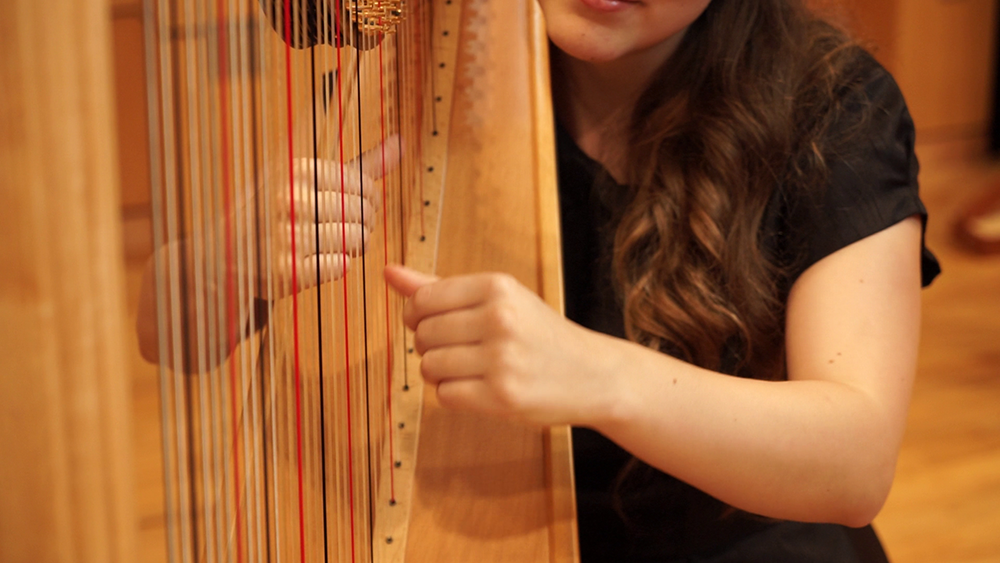 Also within the past week was a lot of turmoil within our nation. Black citizens were unjustly murdered and with the mounting outrage to the still persistent racism, police officers were also killed. We consider ourselves very realistic and know for a fact that racism is rampant in our nation. Jenny tried to draw attention to this within her entire MFA (Master's in Fine Art) career, especially in her culminating series The Visual Indoctrination of the Bigot & 60-page book written on the subjects of racism & sexism within the world (focusing on psychology, the Internet, etc.). Even though we together attended the last major Black Lives Matter march in November 2014 when we lived in Santa Barbara, CA, we're not sure much has changed leading up to the latest Vigil/ Gathering we attended in South Bend, IN this past weekend. While the last march we went on included about 30 to 50 cops following and surrounding the protest (in CA) this Vigil/ Rally was much more peaceful and no cops attended (at least not in uniform). We even saw our mayor in attendance with his boyfriend. Tensions were still high, but one thing that really resonated was one quote that was repeated by the Black Lives Matter organizers which was "Police aren't the problem. White Supremacy is the problem!" Below are a series of images that we captured during the event.
The last images we wanted to share with you are much less serious. We had already quickly been to the St. Joe County 4H Fair in Indiana with our siblings, but got $4 return passes and headed back on the last day of the fair. On this last day we walked around with our cameras and captured what was going on around us. It was a good way for us to celebrate finishing some big projects and really take time to ourselves to enjoy some silly things such as a free sideshow act as well as demolition derby.
It's been a pretty weird and stressful week, so sometimes it's nice to get away from the Internet and enjoy the real world with things such as the fair. We hope you've had a good, productive dive back into work & life post-4th of July activities and we can't wait to shoot a few Engagement Sessions next week-! Have a wonderful week & weekend!